Hard Cheese, dense with a brittle, grainy texture. Clean and well-developed aroma. Soft amber color with a uniform smooth, consistent and well-formed rind.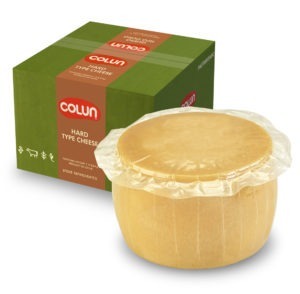 NUTRITION INFORMATION
100 g
Energy (kcal)
347
Protein (g)
36
Total Fat
22
Saturated Fat (g)
14.34
Monounsaturated Fat (g)
6.52
Polyunsaturated Fat (g)
0.56
Trans. Fat (g)
0.96
Cholesterol (mg)
72
Total Carbohydrates (g)
0
Total Sugars (g)
0
Lactose (g)
0
Sodium (mg)
859
Calcium (mg)
947
Format: 8kg
Units per box: 1
Pasteurized milk, salt, calcium chloride, rennet, sodium nitrate and lactic cultures.
Once opened consume within 5 days and store refrigerated (2°C – 6°C).
Manufactured by: COLUN LTDA. Av. Augusto Grob N° 1105, La Unión, Región de Los Ríos, Chile. Sanitary Authorization Nº 2352 of 15/04/2013. Official Number Nº of SAG (Agricultural Service of Chile): CL 14-03. Product of Chile. www.colun.cl